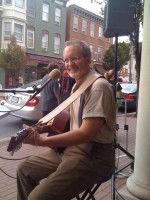 Roy has been presenting 'American History Discovery Programs' since 1985. He is a 1976 graduate of Mansfield University, Mansfield, PA, with a B.A. Degree in Music (emphasis on Theory and Composition, and Performance in Voice) and is a resident of Chambersburg, PA.
Born, in 1953, and raised in the New York City suburb of Massapequa, Long Island, NY, Roy's interest in music and storytelling comes from his own historical ancestry. His paternal Great-Grandmother was a well-known storyteller in North Carolina, he is a distant cousin to the highly regarded Civil War poet and musician Sydney Lanier, and his maternal Great-Grandfather was a recognized tap dancer in New York City, who performed (according to family anecdotes) with the great entertainer George M. Cohan!
Roy performs regionally (PA, NJ, NY, MD, VA, WVA) and, in the not too distant past, has appeared in festival events in France and Italy and has represented the Lehigh Valley (Bethlehem, PA) and the United States in an international Sister Cities Festival in Schwabisch Gmund, Germany. He has appeared at many regional fairs and festivals, schools, churches, and libraries, as well as private and public celebrations and events.
Of all of the performances that he feels privileged to present, Roy most enjoys bringing his unique method of exploring history to Elementary School students and Retirement Community residents! "For me, the most gratifying and exciting aspect of doing these programs is watching someone's expression change as they figure out the answer to a question based on the information that they are listening to, or, the songs that they are singing along with! When you encourage someone to figure out something within themselves, and they do (figure it out), they gain something from the process that memorization of material, by itself, may not accomplish. Because of that process, the programs are more than fun and informative...they promote character development, as well!"
For those of you who are not yet familiar with Roy's programs he takes his audiences on musical and informative 'journeys' through segments of American history combining music and 'history-telling'! Accompanying himself with a 12 string guitar (Martin D121), Roy sings songs from our past, shares stories of our predecessors, tells the legends of our folk heroes, and asks thought-provoking questions. Through this combination of presentation elements he 'illustrates' the lives and circumstances of America's past generations and explores their relevance to our present times. History is about people and the things that they accomplished. For me, learning about history is more than memorizing dates and places. It's important to learn something about the lives of the people who accomplished those things. We are who we are, today, because of those people - how they lived, and what they did!"
Mr. Justice believes that discovering and exploring history in this way can help to create a more productive future for all of us. In his experience, he has found that INVOLVING people in the learning process (rather than simply presenting the information in a one dimensional format) produces a cognitive awareness within most listeners which they may not (most likely, would not) experience through reading alone. To hear an example of what one of Roy's programs is like, click the "Program Audio Sample" listed in the "Table of Contents"!
Roy Justice sings "John Henry'.
Previous events
Homeland Center Retirement Community, Harrisburg, PA
Private